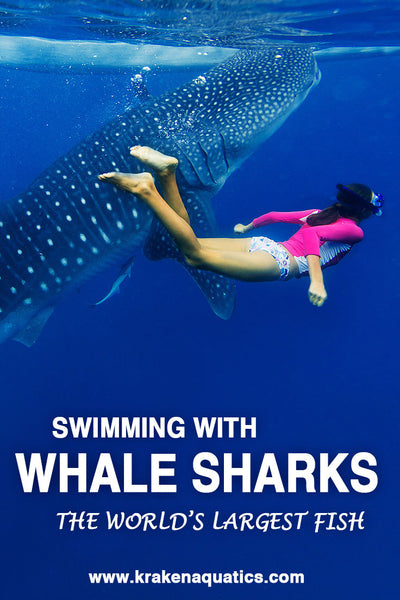 For many people, one of the ultimate bucket list experiences is swimming with the world's largest fish...the whale shark.
The gentle giant
Whale sharks are huge.  On average whale sharks grow to be 18 to 33 feet in length but they have been known to get up to 40 feet in length. That's roughly the size of a school bus!  Their mouths are massive and reach a width of approximately 5 feet.  Whale sharks are the largest living fish on the planet weighing in at up to 20 tons.
Swimming with whale sharks is safe
Swimming with such a large animal seems like a very dangerous activity and can be quite intimidating.  Don't all sharks want to have an innocent snorkeler for an afternoon snack? Fortunately whale sharks don't eat meat like many other sharks and, therefore, are completely harmless to humans.  The slow-moving filter-feeding whale shark eats mainly algae and plankton by filtering it through their huge mouths.  They don't use teeth to eat.
Whale sharks are docile fish and at times have been known to even allow swimmers to catch a ride but many people discourage this practice because of the disturbance to the sharks. 
The best places to swim with whale sharks
Whale sharks tend to prefer warmer water and are found in tropical waters all over the world.  There are a handful of destinations around the world where you can swim with these amazing giants. In many destinations, in-season sightings of whale sharks are almost guaranteed.  Just a few of the popular destinations are:
Mexico
Whale sharks arrive in Mexico to feed and mate from June to September but July to August would be the best time to visit for an encounter.  Cancun, Playa del Carmen, Isla Holbox, Isla Contoy, Isla Mujeres and Cozumel are all great destinations to book a tour from.
Belize
Whale sharks are drawn to Gladden Spit and Silk Cayes Marine Reserve between March and June.  They are more consistently found in April and May with most being spotted a few days before or after the full moon.
Honduras
A high concentration of whale sharks arrive between March and April in Utila, Honduras. Later in the year, smaller numbers of whale sharks can be found from September to Christmas.  Jump on one of the daily dive boats headed to the north side of the island where most of the whale sharks are spotted.
Australia
Ningaloo Reef in Western Australia is a great place to swim with whale sharks.  They typically arrive to feed on a mass coral spawning between mid-March and July.  Most tours depart from the small resort town Exmouth.
You can also swim with whale sharks in:
Oslob Cebu and Donsol Bay, Philippines
Mahé, Seychelles
Puerto Ayora, Galapagos, Ecuador
Tofo Beach, Mozambique
Ari and Baa Atolls, Maldives
Koh Tao, Thailand
Some helpful tips to know before you go
Before jumping in to go snorkeling with whale sharks, you will want to already have some snorkeling experience.  Swimming with the largest fish on the planet in the open ocean is probably not the best place to learn.

Use high quality snorkeling gear and be sure that you have all your gear in order before you jump in.  The last thing you want to do during this amazing experience is to be messing around with your gear.  Many tour guides will provide gear but you are probably better off if you bring your own.

This may seem obvious but be sure you can swim well enough to be snorkeling in the open ocean.  You don't have to be a great swimmer but keep in mind that although the whale sharks seem to be gliding slowly through the water, they are actually moving relatively fast and you may spend lots of time chasing them.

Sea sickness is very common on whale shark tours and can ruin your trip in a hurry.  The sea is rarely as smooth as we would like it to be.  If you get sea sick easily, you most likely will if you don't take precautions before your tour.  A popular remedy is to take an over-the-counter non-drowsy motion sickness medicine such as Dramamine or Bonine an hour BEFORE you get on the boat.  This isn't for everyone but has worked well for us.  Some guides will hand out motion sickness medicine on the boat but don't plan on it.  Bring your own remedy.

Bring and use some biodegradable sunscreen.  Unfortunately this is too often overlooked.  The sun is strong and during your trip to swim with the whale sharks, you will probably be without shade and in the sun for most of the day.  You will need some protection!  Many people forget that their back is exposed to the sun while snorkeling and learn the hard way that they should have used sunscreen.  It is important to use biodegradable sunscreen so that you don't pollute with water or potentially poison any sea life.  Also, we highly recommend bringing your own sunscreen as buying sunscreen local can be quite expensive.
If you ever get the opportunity to have the once-in-a-lifetime experience of swimming with whale sharks....JUMP ON IT! Just remember to keep a respectful distance from these gentle giants and resist the urge to touch them or use any flash photography.  You won't regret it and it will be an unbelievable experience that you will remember for the rest of your life.