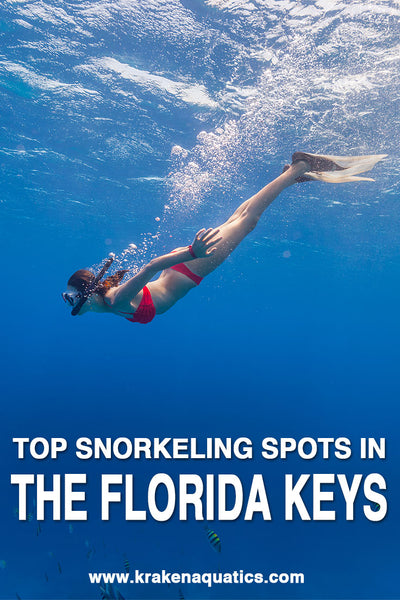 Ah, The Florida Keys! A paradise for the snorkelers who want to savor the beauty of the reefs and the heat of the coast. The Florida Keys indeed are a haven for marine life and abundant corals. In this article, we will go over what we think are the best snorkeling spots in the Florida Keys.
Key Largo
In the north of Florida Keys is the stunning Key Largo that's packed with marine life and crisp ocean water. Most snorkelers focus in John Pennekamp Coral Reef State Park. There you will see the diverse, stunning corals such as sea whips, sea fans, sea fingers, and brain coral. Fish like angelfish, butterfly fish, parrot fish, along with other fish in a variety of colors can be seen. A hundred feet away from Cannon Beach at John Pennekamp, Coral Reef State Park is the 1715 Spanish Shipwreck where history resides under the water. Snorkeling is allowed in other areas as long as there is a visible Diver Down flag to boaters.
Did you know that Key Largo is the longest key in the Florida Keys? It's 30 miles long and 0.5 miles wide.
Biscayne Bay
In Biscayne Bay, you can go to Biscayne National Park. There, you can snorkel at Convoy Point or go to the east at Elliot Key. Either of the two offers a beautiful snorkeling spot. If you want to stay in the mainland, then you can peruse yourself in Convoy Point. If you want to wander more to see nature's finest underwater scenery, you can go to Elliott Key where you can see diverse marine life in shallow waters. It is recommended to use water shoes. There is no equipment rental at the park so make sure you bring your personal equipment. But you can rent Diver Down flags so you can mark your snorkeling spot. You can reach Elliott Key either by scheduled trips by Biscayne National Underwater or by a private boat.
Islamorada
From Key Largo, you can go straight to Islamorada. Islamorada is on Upper Matecumbe Key, but people refer to it as Islamorada because it is what the town is called. In Islamorada, you can take off from the shore and visit Hens & Chickens, Cheeca Rocks, and Alligator Reef. You can reach these patch reefs by short boat ride, although Alligator Reef is much farther. In these stunning reefs, you will see pristine shallow water filled with a diversity of marine life – from hard, healthy corals to sponges, to colorful fish.
Hens and Chickens
Hens and Chickens is another place to be if you want to see beautiful reef with diverse marine life. Famed by its amazing large patch of reef (referred to as the 'Hens'), surrounded by small patches (the 'Chickens'), Hens and Chickens boast healthy corals and several beautiful fish including Chub, Porkfish, Foureye Butterfly, Gray Snapper along with other small to medium-sized fish.


Cheeca Rocks
Cheeca Rocks is as beautiful as Hens and Chickens is. However, this reef offers more abundant underwater life. Fish come in schools and solitary, and perhaps, snorkeling in the reefs of Cheeca Rocks will literally make you swim with the fishes. Cheeca Rocks is just a short boat ride away from the coast of Islamorada. The water, though, is a bit cloudy and 'green' due to algae. But that doesn't stop the reef from offering amazing scenery and visibility. Really, snorkeling here is a must! The wonderful sea life is picture-worthy and is worth bragging about.


Alligator Reef
Alligator Reef is simple yet stunning. Amidst the water is a lighthouse that marks the shallow part of the water. The water is in 8 to 20 feet, perfect for snorkeling and freediving. Alligator Reef is not just another 'snorkeling place'. Indeed, it is a small paradise in the Keys that brags stunning topography. The clear aquamarine water is just simply awesome. Under the water are countless sea life that wanders here and there. There are three places on the reef to go snorkeling:

The first place is in near the tower where the Alligator ship sunk in the 1800s. The reef, in fact, was named after it. There you will find a mound of stones where small fishes play and wander. Healthy corals, sponges, and moving fishes are all over the field. Truly a stunning experience to see.
The second place is underneath the lighthouse. What waits you there are not just rusted, algae covered steel that supports the lighthouse, but also a multitude of fish that come in solitary and school.
Just a short boat ride to the east of the lighthouse, you'll get in the deeper part of Alligator Reef where other types of fish wander and play. Stone walls are also present that give protection to the fish. The water is about 20 feet deep. There you will see stunning sea life like Yellowtail Snapper, Nurse Shark, Midnight Parrotfish, and French Angelfish.
Marathon
Are you an fearless swimmer? Ready to drive the adrenaline just to have a closer look at wonderful sea life? Visit Marathon (Vaca Key). There you can go off the shore and go to Coffins Patch and Sombrero Reef.
Coffins Patch
From Marathon, you can take a boat ride to reach Coffins Patch. In here, you can visit two snorkeling spots, The Donut, and The Stake. These two are usually combined in one boat ride. The Donut is deeper than The Stake. Either of the two offers awe-inspiring underwater beauty – sponges, corals, turtles, and different fish.


Sombrero Reef
Sombrero Reef is a must-go snorkeling spot. You might want to bring an underwater camera when venturing the deep waters of Sombrero Reef. The underwater is filled with a multitude of fish and corals. The stunning ocean water is of pure beauty. You just can't stop taking good photos.


Bahia Honda
The tantalizing aquamarine ocean water of Bahia Honda is another snorkeling spot to drool of. Though Bahia Honda offers a little sea life, it is still a must-visit snorkel spot especially for beginners who want to go and snorkel light and easy.
Big Pine Key
When in Big Pine Key, make sure you visit Looe Key Reef. Yes, that's right. This spot should be on your list. This spot, though, is only for those who have the bravado to dive deep into dark blue ocean water. Big sea creatures can be seen in this spot. Hence, it is no doubt why regular snorkelers highly recommend visiting this spot.
Long Key
If you want to go light and snorkel in a flat, shallow area, then squeeze yourself in Long Key State Park. There you can go shoreline snorkeling and watch beautiful sea life in seagrass.
Did you know Long Key was once called Cayo Vibora or Rattlesnake Key because of its shape that looks like a rattlesnake with jaws open?
Fort Zachary Taylor
In the southwestern part of the Florida Keys lies Key West, a spot, then again, beautified by nature itself. In Key West is where Fort Zachary Taylor is – a perfect location for snorkelers who want to explore the reefs. Fort Zachary Taylor is located at the end of Southard Street on Truman Annex. It is also the home of 1866's civil war Fort. Ooohh, the sea is calling, the pristine waters are waiting, the beautiful marine life will fill your eyes with nature's ever glowing beauty. Be sure to bring your own snorkeling gear when visiting this place. Or, you can rent the equipment available there. Just don't forget to bring cash. They only take cash, not credit.
Sand Key Lighthouse
Another must-visit place in the Florida Keys for snorkeling is the Sand Key Lighthouse. The lighthouse was originally built in the 1800s and a strong storm  later wrecked it down. The lighthouse was then rebuilt and is now a tourist destination not only because of its history but also because of the clear and crisp water and wonderful sea life surrounding the lighthouse. The beauty of Sand Key Lighthouse reef is naturally shaped by nature.
One reason why the beauty and finesse of Sand Key Lighthouse reef is maintained is because of its strict rule for the snorkelers. Snorkelers and divers are not allowed to take any kind of marine life from the reef. Even seashells are no exception. Also, snorkelers are only allowed to snorkel on the marked buoys.
Fort Jefferson
Visiting the Dry Tortugas National Park in Fort Jefferson is a decision you will never regret! Board the Yankee Freedom III for a ferry ride to Dry Tortugas National Park. The crew of Yankee Freedom III will provide you with the snorkeling gear you need to explore the reefs nearby. There are a lot of spots in Dry Tortugas that are perfect for snorkeling. Each spot offers clear water that guarantees amazing visibility of the topography and corals. The water is in 5 to 15 feet deep range – I know right!? It's absolutely great for snorkeling. Whether you're a beginner or professional snorkeler, this place will leave you in awe.
There are four great spots in Dry Tortugas to explore:
Near The Moat Wall
First on our list is the along The Moat Wall. Getting into The Moat Wall is actually not difficult since you will be given a map. Besides, the snorkeling areas are just around Fort Jefferson. There you will see healthy hard and soft corals, sponges, and small to medium-sized fish. You will also see Christmas Tree Worms in a variety of colors.


North of The Moat Wall
Just swim a little bit to the north of Moat Wall, you will get into six patch reefs. It is also best to go to these patch reefs straight from the white sand shore. Healthy sea life and corals can be seen.


Southern Wharf Ruins
Nice, colorful corals and fish are visible in the Southern Wharf Ruins. The place has pilings that supported a wharf. So, make sure to snorkel with care, avoiding to hit the pilings.


Northern Wharf Ruins
Northern Wharf Ruins is the same with Southern Wharf Ruins. The spot is filled with pilings that used to support a wharf. Hiding behind the pilings are shy fishes. It's actually a great place to snorkel.
These are the top snorkeling spots in the Florida Keys you must visit. Truly, it's an amazing experience to see various underwater life. Venturing the clear waters and crisp reefs are a great way to experience serenity together with nature. Snorkeling, indeed, is a wonderful hobby that allows us to escape from the busy city and day to day life.
More Tips for You:
Travel with a buddy
It is truly a happiness to travel with your best pal. That's even more true when snorkeling with your favorite buddy. Not only you will have a more enjoyable time, but you will also have someone to assist you while on the water in case something bad should happen.


Snorkel with the right gear
There are snorkeling spots where you can rent your needed gear. But of course, you can bring your own snorkeling gear if you have it. Buying or renting gears is actually up to you as long as you ensure that the gear you use fits you well.


Use the right mask
Make sure to use the right mask that offers you the special features you need. Do you want a mask that will give you a wider view of the field? Then use a high-quality double lens mask. Do you need a mask with corrective lenses for better vision? Or do you need a dry snorkel that prevents water from entering your snorkel?